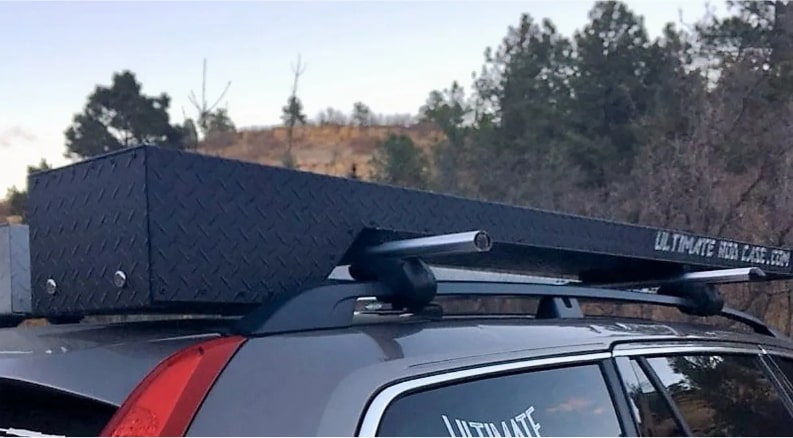 Hybrid Carrier For Spin & Fly Rods By Ultimate Rod Case: Vehicle-Mounted Fly Rod Carrier
For years, Ultimate Rod Case has helped fly anglers save time and protect their gear. Today, we're excited to tell you about the new hybrid cases from Ultimate Rod Case that can carry both your fly and spin fishing rods! So, whether you're aiming for trout in the riffles with a fly rig or hunting bass lurking deep in lakes with a traditional spin-fishing setup, you can stash your gear safely and securely in one stylish carrier.
Ultimate Rod Cases mount to most any vehicle's roof rack crossbars. With a seamless PVC sleeve, there's nothing to snag on eyelets or hooks. The felt-lined reel box protects delicate reels with room for fighting butts and large arbor reels. The exterior is made from weather-proof aluminium and stainless steel so it'll continue looking spectacular on your car or truck, season after season. Of course, it's also lockable, so you don't have to worry about theft. You can even get custom finishes to match your vehicle or express your style! Form and function, safety and security, practicality and protection -- you get them all for all your fishing gear with the Ultimate Rod Case hybrid carrier.
Product Specifications
16-Gauge Aluminium Construction
4 & 8 Rod Capacities Available
10', 11' & 12' Lengths Available
Extra-Long Reel Box For Spin, Fly, Musky & Saltwater Rods
Industry-Best 18-Month Limited Warranty
About The Ultimate Rod Case Co.
Family-owned and angler-operated, the Ultimate Rod Case company was founded to solve a problem every angler deals with: the frustrating process of transporting your gear to and from the fishing hole. After all, trying to transport your rod already rigged and assembled can be a hassle -- risking damage to your vehicle or even the rod itself. On the other hand, assembling and rigging at the water's edge wastes precious time you could spend fighting the catch of the day. With the Ultimate Rod Case, you can transport virtually any rod so it's ready to fish the moment you arrive. Bring up to 8 rods so friends can catch a ride, or have multiple set-ups ready for all the scenarios you might encounter.
The Ultimate Rod Case is stylishly overbuilt for extreme protection from the elements for your rods. Not even hail, tree branches or other debris will harm your gear. Ask about custom finishes like diamond-plate steel, custom paint jobs or stylish yet durable powder coating. The Ultimate Rod Case is easy to install and remove, but it's got a look you'll be proud to show off on your vehicle all year round.