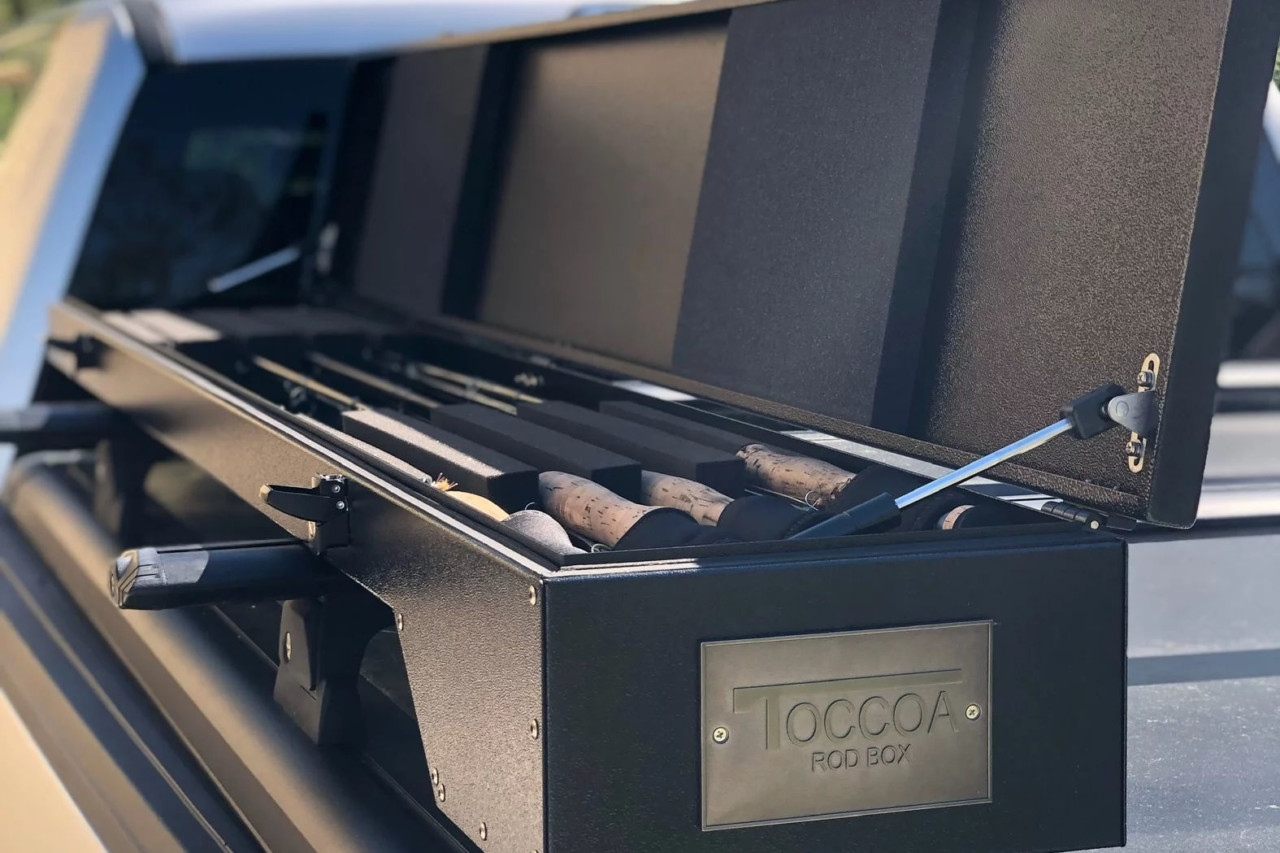 Toccoa Rod Boxes: Vehicle Mounted Fly Rod Carriers From Toccoa Guide Gear
The Toccoa Rod Box was developed to help fly fishermen and fisherwomen enjoy more time on the water and less time packing, breaking down and rigging. Now you can store ready-to-fish fly rods, complete with leader, tippet, hooks and flies, conveniently atop your vehicle!
Available in two different sizes for all sorts of vehicles, from sedans and small crossovers to pickup trucks and bulky SUVs, the Toccoa Rod Box can hold up to four fly rods. That means you can bring three friends along for the trip, or have multiple configurations at hand for various fish and conditions you might encounter. The spacious reel housing allows for storage of most reels up to and including arbor size 8, 9 and even 10. Reel lengths of up to 10.5' can be safely stored.
The Toccoa Rod Box mounts easily to most factory roof rails and crossbars. Installation is simple and requires no special tools. It's a task that can typically be completed in under an hour. Best of all, your Toccoa Rod Box will come complete with step-by-step video instructions. Pair that straightforward installation process with free shipping and you'll be enjoying your new Rod Box in no time!
Why Choose The Toccoa Rod Box Fly Rod Carrier?
Unlike many sleeve based fly rod carriers, which use segmented tubes into which you must slide your fly rod, potentially leading to damage, the Toccoa Rod Box features a flip-up top opening. Instead of sliding your fragile reel all the way down the rod tube, you'll simply set your reel inside. Your reels will rest on water-resistant foam inserts which safely cradle the rod, with no seams to snag on guides and ferrules.
A feature you won't find on most competing products, gas shocks allow the Rod Box to open easily and close softly. A pair of locking latches keep your reels secured while your vehicle is parked. And, since the Toccoa Rod Box is made from 18-gauge powder-coated steel and sealed with foam inside, it's strong enough to protect your equipment from anything the elements can throw at it. Choose the Toccoa Rod Box to protect your gear and get on the water faster!
The Toccoa Rod Box Pricing
The original Toccoa Rod Box is roughly 6.5' long and is ideal for mounting on pickup truck cargo boxes and small vehicle roofs. It can store up to 4 fly rods up to 10.5' in length, broken down into two sections. You can still keep all reel totally rigged up and ready to go -- just attach the two segments when you arrive and get fishing. Regular Price: $599.00
Ideal for larger vehicles like SUVs and station wagons, the Toccoa Rod Box XL is roughly 10' long and allows you to store 4 fully assembled fly rods up to 9.5' in length. It comes with an extra locking latch and is made from even stronger 16-gauge steel for maximum durability. Regular Price: $699.00