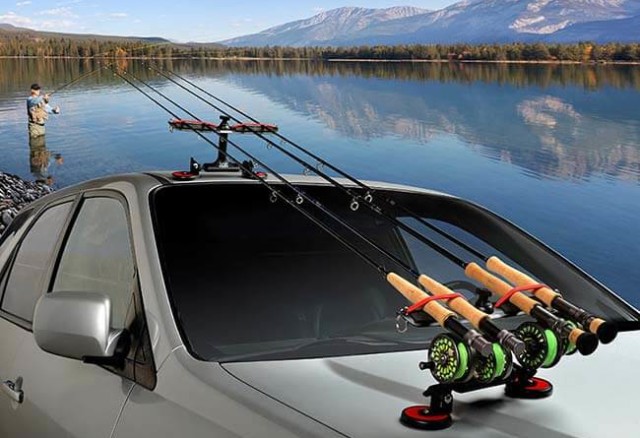 Rodmounts Interior & Exterior Rod Racks
Rodmounts is a manufacturer that's dedicated to supplying you with a diverse selection of quality fly fishing rod racks. Based out of Bend, Oregon, Rodmounts has two different types of rod racks (interior and exterior), and each type has two different variations.
Sumo Exterior Rod Racks from Rodmounts
Sumo Magnet Mount Rod Carrier- $189.95
The magnet adhesion option is a great option for anglers whose vehicles have a steel roof, and who tend to fish in less than ideal weather conditions and terrain. The magnet option is more resistant to cold, water, and dust, but they require flat, steel surfaces and should not be used at speeds over 45mph.
Sumo Suction Mount Rod Carrier- $169.95
The suction adhesion mount for the Sumo exterior fly rod rack provides superior adhesion to a wider variety of surfaces, but they are more susceptible to cold temperatures and wet/dirty surfaces that could interfere with adhesion.
ROD-UP Interior Rod Racks from Rodmounts
ROD-UP For Cars, SUVs, Wagons, and Vans- $199.95
This suction-cup based rod rack adheres to your back side window, and a tip holder is secured to your headrest, as the hold itself is positioned between the two front seats. This design is easily installed and uninstalled, and it fits most passenger vehicles with a hatchback.
ROD-UP For Trucks w/ Bed Caps
The ROD-UP interior rod rack for trucks requires a pass through window between the bed-cap and the cab. The rack attaches to the window-frame of the cap, and the rod-tip hold is attached to the head rests in the cab, and it can hold up to six rods. Another model will be available in the future for longer-bed trucks that will not require a pass-thru window.