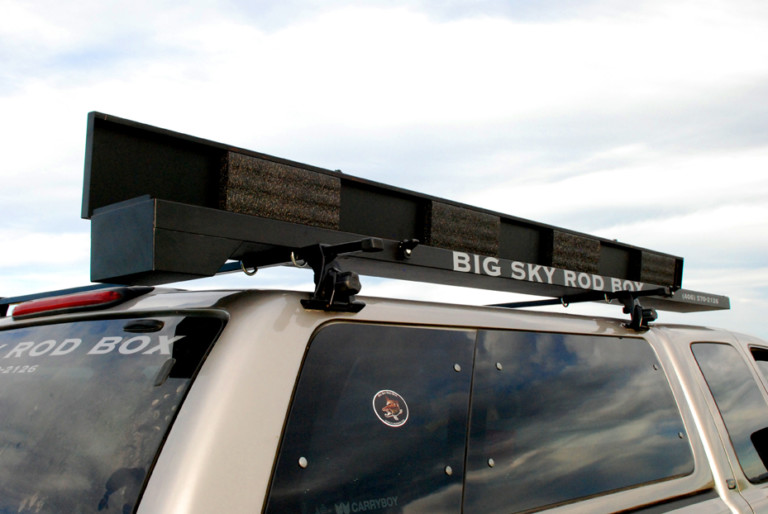 The Big Sky Fly Rod Box: Vehicle Mounted Carrier For Fully Assembled Fly Rods
There are a wide variety of fly rod transportation solutions on the market today, but none are quite as functional, versatile and durable as the Big Sky Fly Rod Box. Now, you can store fully assembled fly rods in a locked, weatherproof container mounted securely to the roof of your car, truck or SUV! That means you can get all your gear ready the night before, arrive at the spot and hit the water in minutes. Beat the crowds to the water, save time, protect your gear and ultimately catch more fish! The Big Sky Fly Rod Box is the accessory you never knew you needed, but won't know how you lived without.
The Big Sky Fly Rod Box can store rods up to 9.5' long, complete with reel. Unlike many other rooftop fly rod carriers, which require you to slide your whole rod down a long tube, the entire top of the Big Sky Fly Rod Box hinges open for easy access. That means no bent or damaged guides. Each fly rod sits in a protective bed of closed-cell foam that protects it from damage as you drive down bumpy roads. Of course, the compartment also features sturdy locks to protect your gear from theft.
Best of all, simply replace the foam inserts with a set of Spey/Switch Rod inserts to safely protect spey and switch rods! When collapsed in half, you can fit up to 18' spey/switch rods. Just swap the foam inserts in and out based on the type of gear you're looking to carry.
Why Choose The Big Sky Fly Rod Box
It's simple: the Big Sky Fly Rod Box sets itself apart from other fly rod carriers with supreme strength and durability. It's made from ultra-strong materials for long-lasting performance no matter the weather. 18-gauge welded steel makes up the body with a dual-layer powder coated finish. No matter how wet, how hot or how cold it gets, the Big Sky Fly Box keeps your gear protected. On the front end, an 1/8" aluminium tread plate shrugs off bugs, stones and low-hanging tree branches. Only the Big Sky Fly Rod Box has the toughness to stand up to year after year of outdoor abuse.
The Big Sky Fly Rod Box can store up to six fly rods -- and since you can install two of them on the roof of one vehicle, you can bring along up to 12 rods, more than virtually any other transportation system on the market!
Big Sky Fly Rod Box Product Lineup
The BSRB Original Fly Rod Carrier is the standard, full-length rod carrier built for larger cars, trucks and SUVs. It has room for up to four fly rods reaching up to 9.5' in length. Regular Price: $749.00
With a lighter construction for shorter fly rods and smaller vehicles, the BSRB Sculpin Fly Rod Carrier is just 5.5' long and 15 lbs lighter than the original BSRB. The Sculpin can still hold up to 4 fly rods, including 10' rods that are fully rigged but broken once in half. Now you can get all the benefits of the original Blue Sky Fly Rod Box on smaller vehicles. Regular Price: $729.00
Slightly wider than the original, the BSRB Six Pack Fly Rod Carrier provides enough room for up to six completely assembled fly rods! Regular Price: $849.00