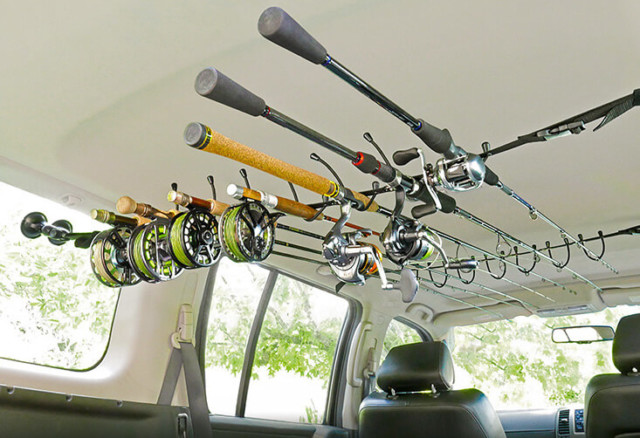 Smith Creek New Zealand Rod Rack
The market for fly rod carriers seems to be absolutely flooded with metal boxes that need to be secured to the top of your car, and they usually require roof rails to do so. Smith Creek New Zealand had a slightly different idea: why not keep your rods in the vehicles with you?
With that idea in mind, they created the Smith Creek Rod Rack, a universal heavy-duty vehicle interior rod racking system. This harness based rack is easy to use, easy to install, and designed and tested on miles of bad roads to ensure safety and security. It can store 7 different rod and reel combinations in a quickly accessible position. If your rods are longer than the actual interior of your vehicle, just double over the rods and tension both rear and forward shock cords to better secure them.
About Smith Creek New Zealand
Smith Creek New Zealand specializes in uncompromising fishing gear, including their rod rack, rod clip, net holster, net leash, and so much more. Founder Wayne Smith found paradise in the New Zealand waters 25 years ago, and has since stayed there to innovate the fly fishing product market. Every product offered by Smith Creek expresses his passion for adventure, the outdoors, and fishing.
Smith Creek Rod Rack- $129.95
Comes With:
Two Rod Carrier Straps
Two Heavy-Duty Locking Suction Cups
Two Round Carabiners
One Draw-String Storage Bag
Four Strap Retainers