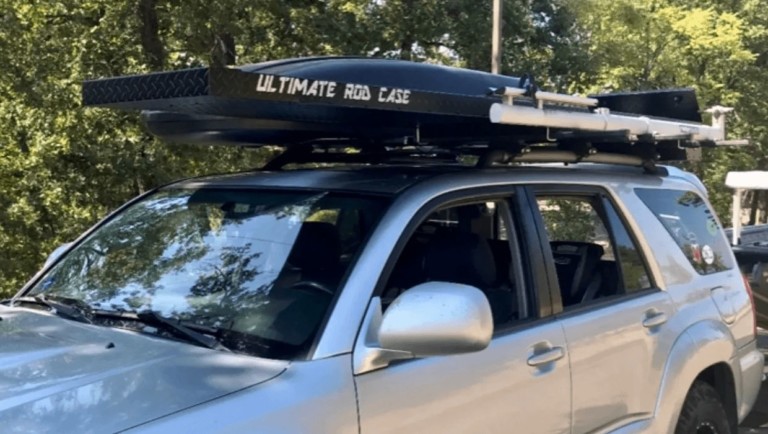 Ultimate Rod Case: Vehicle Mounted Carrier For Fully Assembled Fly Rods
With a handcrafted protective case for your favorite fly rods, you'll arrive at the fishing hole ready to go and beat the crowds to the waterline. The Ultimate Rod Case is designed to protect and transport fully assembled fly rods on the top of your car, truck or SUV. When you get to the spot, getting started is easy as grabbing your rod like a sword from its scabbard, wading in and launching your first cast!
The patent-pending Ultimate Rod Case is designed to safely and securely transport up to eight fly rods fully rigged up and ready to fish. Sturdy stainless steel mounting hardware is compatible with virtually any vehicle that has a roof rack and crossbars. Best of all, the Ultimate Rod Case is available in a huge variety of sizes and lengths and can store fly rods, spin rods, even bulky saltwater rods.
The Ultimate Rod Case means you can protect your vehicle's interior from wet gear and protect your gear from your vehicle, too. No more stray fishhooks getting stuck in car seats, no more broken rods or cracked ferrules from rods jostling around loose and disassembled in the trunk. Save room for the rest of your gear and keep your fly rods pristine with with this top-quality fly rod carrier.
Why Choose The Ultimate Rod Case?
The Ultimate Rod Case gives your rods the ultimate protection thanks to what some might consider a seriously overbuilt structure. It's made from 16-gauge diamond aluminium plate and aluminium angle, unlike rival products that often feature plastic construction. Instead, rust-free, outdoor-grade aluminium provides toughness for harsh weather, bug strikes, hail damage and whatever else the elements might throw at you.
Inside the Ultimate Rod Case, seamless PVC tubes provide the perfect place to stash your fly rods, even with all the line, reel and accessories attached. Insulation protects your fly rods from extreme temperatures and a locking door provides reliable security.
Most other fly rod carriers come in whatever color you want, as long as that color is black. By contrast, the Ultimate Rod Case can be painted in custom colors and powder-coated for enhanced durability and style! It's also protected by a longer warranty than the other guys: 18 months of warranty coverage.
Ultimate Rod Case Fly Rod Carrier Product Lineup
The Ultimate Rod Case is available in a variety of different sizes and configurations. The entry-level fly rod carrier is the Ultimate Original 2, with room for two fully assembled fly rods up to 10' in length. Regular Price: $399.00
With room for twice as many rods, the Ultimate Original 4 is also available in a wide variety of lengths to fit just about any vehicle and carry just about any fly rod. Regular Price, 9' Edition: $599.00 - Regular Price, 10' Edition: $599.00 - Regular Price, 11' Edition: $699.00
Whether you're a fishing guide who needs as much storage as you can get or you just want some spare rod holder slots for your buddies, the Ultimate Original 8 carries up to 8 fly rods. The Guide Edition can hold rods up to 10' in length and the available 11' edition holds 11' rods. Regular Price, Guide Edition: $799.00 - Regular Price, 11' Edition: $899.00
If you also go spin fishing or bait fishing, ask about available hybrid models that provide the same protection to all kinds of rods, including fly, spin, spey, musky and more.