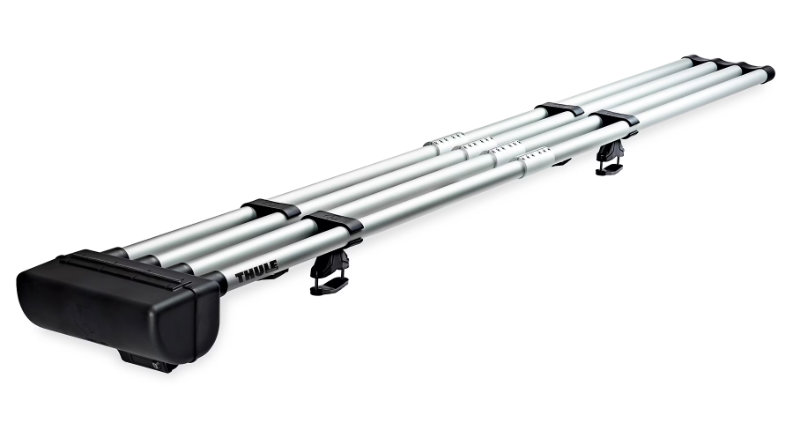 The Thule RodVault 4
Loading even one rod into the trunk of a car poses many possible threats: guides can easily break or rotate, reels can be bent, and the rod itself can snap. When you have multiple rods, however, that risk is compounded, and you can end up with a literal tangle of issues. That's why the Thule RodVault 4, available from Denver Outfitters, is such a valuable addition to your outdoor equipment.
Features of the RodVault 4:
Four 10' Rod Tubes Crafted from Aircraft-Grade Aluminum
Easy-Installation with the Universal Mounting System
Locks on Both the Rod Tube and the Load Bar
Tubes Lined with Polypropylene for Added Protection
4.25"-Diameter Rod Cases Reinforced with Glass
Get Every Rod to the Water Safely with the RodVault 4
With four rod tubes crafted from aircraft-grade aluminum and lined with polypropylene, you can be sure that each of your and your fishing friends' rods will arrive fully rigged and protected each time you travel out to the water with the Thule RodVault 4. The last thing any angler wants after a long drive to the river or lake is a tangle of lines and rods, or worse yet, finding your valuable equipment damaged or totally broken; the RodVault 4 is the solution that will give you the calmness and peace of mind you're looking for on every trip into the wild. Alongside this, the RodVault 4 has locks on both the rod tubes themselves and to your car's load bars to ensure that your expensive equipment will be safe from thievery. When you add in the glass-reinforced reel case that can hold reels up to 4.25" in diameter with fighting butts, you get the full package of sturdiness that is this rod vault from Thule.
Here at Denver Outfitters, conveniently located at 525 Sante Fe Drive in Denver, Colorado, our staff members possess the utmost knowledge on everything related to the outdoor industry and the equipment that goes along with it. Come visit us in person today to learn more about all we have in stock, especially the number one selling rod carrier in the world, the RodVault. There's a reason that more anglers choose the RodVault over any other rod carrying system: the combination of strength and sturdiness and a sleek, lightweight design is unmatched by any other companies on the market. If you thought that a rod carrier could only be a large, clunky metal box that you put on top of your car, think again. The Thule RodVault is built for just the amount of space you need while maintaining a strength found nowhere else on the market today. So contact us online or come visit us in person today in Denver, and discover why so many other anglers are pleased with their RodVault 4 from Denver Outfitters. Arrive on the water confident and ready to go with every trip; go with the RodVault. We are excited to see you soon!