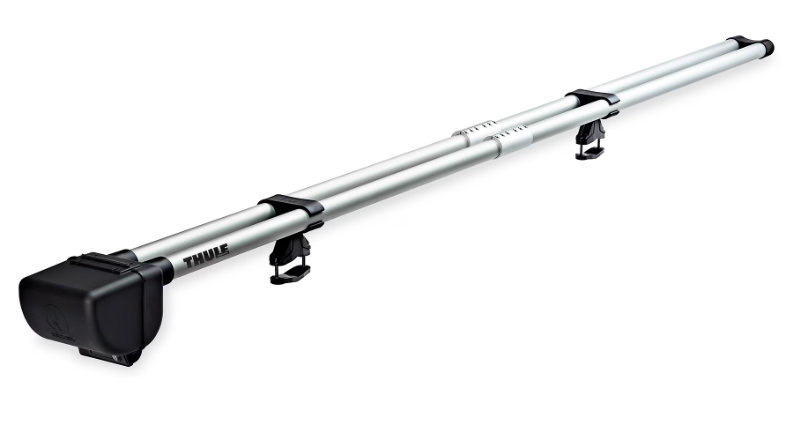 The Thule RodVault 2
The Thule RodVault 2, available from the Denver Outfitters online shop, is the best way to transport your rods to and from the water.
What You'll Get:
Two 10' Rod Tubes Crafted from Aircraft-Grade Aluminum
Polypropylene-Lined Rod Tubes for Added Protection
Locks on Rod Case and to Load Bar for Security
Universal Mounting System for Easy Installation
Glass-Reinforced Reel Cases that Hold up to 4.25" Diameter Reels with Fighting Butts
Thule Rod Racks From Denver Outfitters
With two rod tubes built to hold fully-rigged fly rods up to 10 feet long, forged from aluminum rated for aircraft use, the Thule Rodvault is the sturdiest and safest way to transport your equipment to and from the water. Alongside the added convenience of a rod rack, the Universal Mounting System and the lock to rod case and lock to load bar on the Thule RodVault gives you both the best convenience and best security for your valuable fishing equipment. With the added security of polypropylene-lined rod tubes to protect fragile rod tips, as well as glass-reinforced reel cases, these rod cases safeguard every component of your setup so that you'll always get to the river ready to catch fish. Alongside all of this, Thule designs their RodVaults with that sleek design that you won't get with the large and clunky rod racks made by other companies. They also guarantee a limited lifetime warranty on all carriers and racks so you can have peace of mind no matter where life takes you. If you want to arrive at the water time and time again with the best-looking and sturdiest rod carrier on the market, the Thule RodVault is the right choice for you.
You can get your RodVault, the number one selling fly rod carrier in the world, in person at Denver Outfitters. Come in today to talk to a friendly member of our staff, who can tell you more about these rod carriers and instruct you on their installation. Join the many happy Colorado buyers who are experiencing the unparalleled convenience and protection of having their fully-rigged fly rods ready to go every time they reach the water. Save your equipment and your time with the RodVault from Denver Outfitters, conveniently located at 525 Sante Fe Drive in Denver, Colorado. Our experienced and knowledgeable staff is always ready to professionally provide you with the best guidance on your next piece of outdoor equipment. If you're ready to upgrade your fishing, hiking or camping experience, and you're looking for the most competent sales guides in Denver, then Denver Outfitters is the place for you. Come visit us today and be on your way to catching more fish and protecting your equipment better than ever today! We are excited to see you soon!